Boustead Projects uses data to improve quality management in construction
50% time saved
to lodge a defect
60x faster to prepare digital forms
100% visibility on
project progress
50% time saved to lodge a defect
60x faster to prepare digital forms
100% visibility on project progress
Boustead Projects has implemented Novade's digital platform on over 14 projects in Singapore to improve construction quality management and provide real-time project visibility. Novade digitalised and automated all Boustead Projects' critical site processes. This enabled real-time data access for insights to make better decisions on and off the field.
Some projects include Alice@Mediapolis, a smart and eco-sustainable business park; and JTC's Kranji Green @ Sungei Kadut Eco-District, Singapore's first multi-storey recycling facility. Novade integrated with Boustead Projects' existing Building Information Modelling (BIM) software to connect workflows and data. This ensures seamless quality management and the availability of the latest designs to people who needed them.
PROJECTS
14+ projects with Novade since 2017
Include Alice@Mediapolis, a green and smart business park, and JTC's Kranji Green @ Sungei Kadut Eco-District, Singapore's first multi-storey recycling facility
GOALS
Increase productivity and drive sustainability by digitalising site processes across projects
Adopt a smart field solution that is user-friendly and easily integrates with Boustead's Building Information Modelling (BIM) software
Attain visibility on projects' progress
ISSUES
Teams faced with countless manual processes
Everything was done on paper – from completing inspection forms to creating reports with project data
Difficult to trace projects' progress through messaging apps, emails, and paper-based reports
Complicated workflows and administrative processes
OUTCOMES
Novade users: over 400 main contractors and 500 subcontractors
Saved a significant amount of time with the digitisation of over 28,000 quality forms; identifying and rectifying over 13,000 defects; created more than 67,000 tasks
Seamlessly integrated with Boustead Projects' BIM software
Simplified and digitalised repetitive sequential tasks
Conducted digital quality inspections, with improved quality assurance and control
Notified subcontractors of defects in real time
Uploaded photos using mobile devices while being on-site
Increased visibility on key quality indicators for all tasks and projects
Improved productivity, traceability, and sustainability
Established in 1996, Boustead Projects is a leading integrated real estate solutions provider in Singapore. It has constructed and developed more than 3,000,000 square metres of real estate in Singapore, China, Malaysia, and Vietnam. Its wholly-owned design-and-build subsidiary in Singapore is the eco-sustainability leader in pioneering Green Mark Platinum-rated new private sector industrial developments under Building and Construction Authority of Singapore's (BCA) Green Mark Programme.
It is also a national champion of best practices for quality, environmental, and workplace safety and health (WSH) management, receiving numerous awards for exemplary WSH performance.
Challenges faced by Boustead Projects
One of the biggest challenges that Boustead Projects faced was the tedious administrative work generated by manual site processes. It included an enormous number of manual paper forms.
All construction forms were done on paper then physically compiled for data entry at the end of each day. This process took administrative time for workers who could be doing value-adding work.
Boustead Projects recognised the value of the data they were collecting across multiple projects. They wanted to easily capture and interrogate data, as well as track project status in real time.
One of the other challenges was the lack of traceability. There were many communication channels on-site which included emails, paper-based reports, and various messaging apps.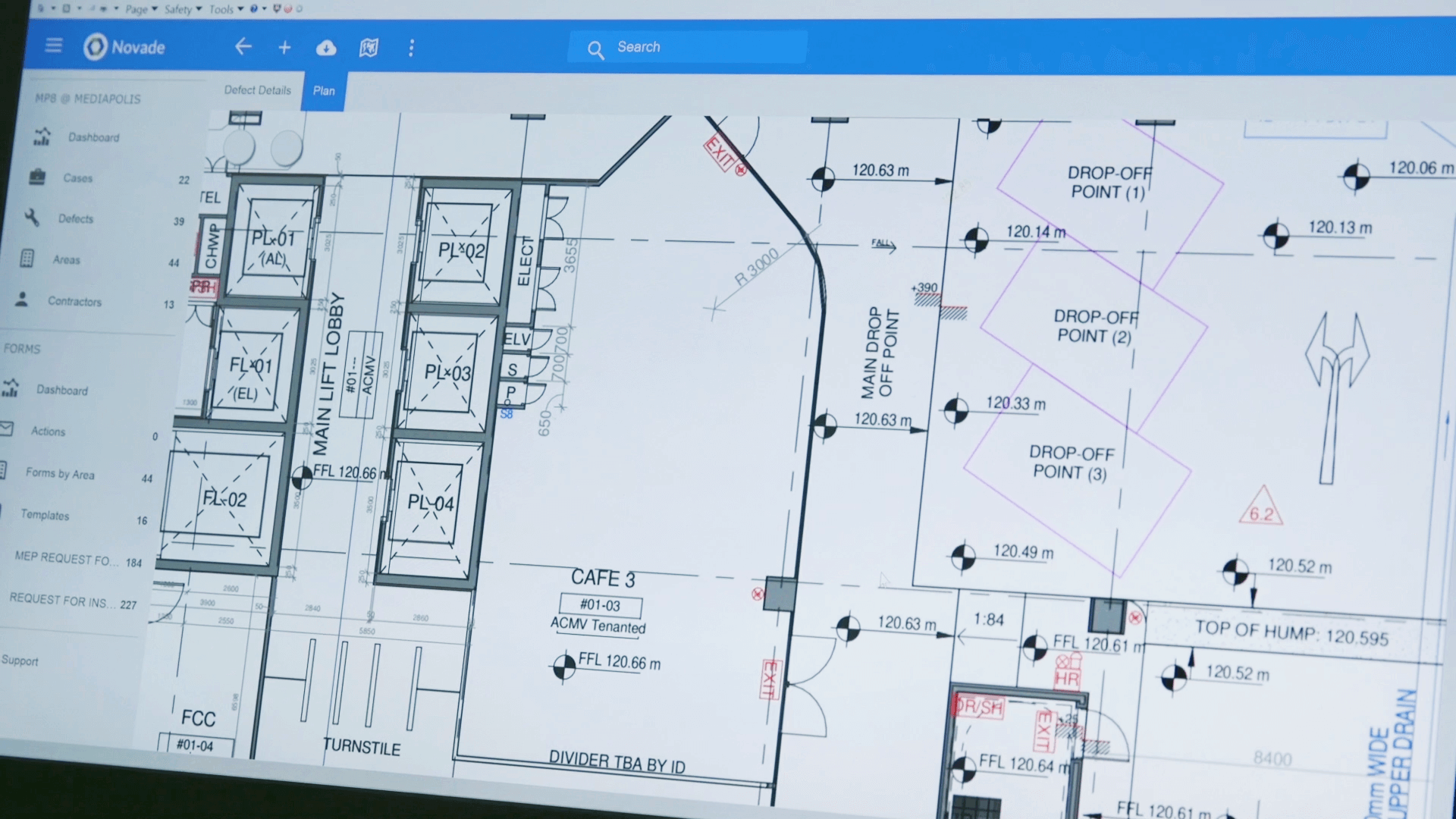 Bringing new thinking to an old problem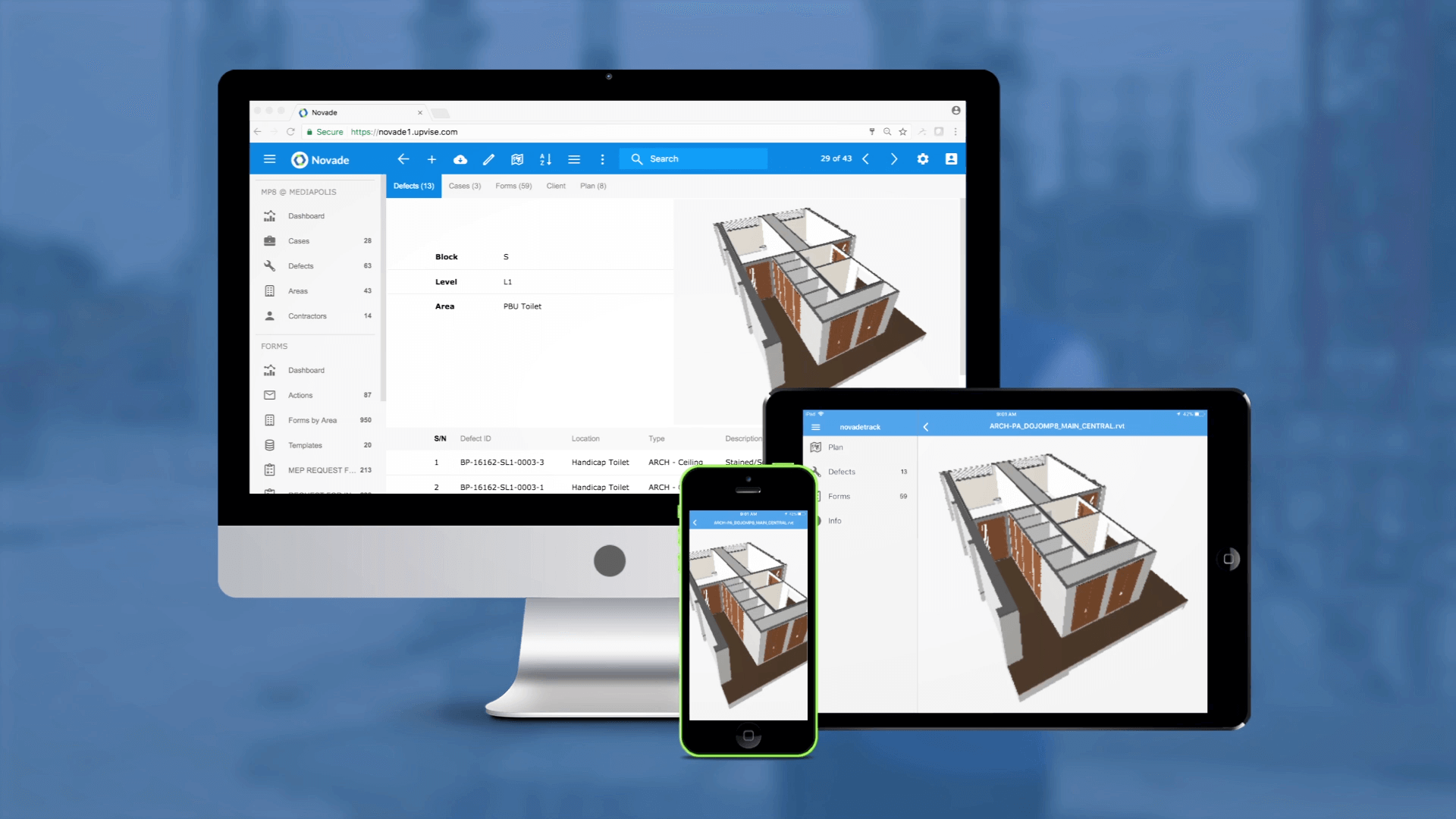 "Novade has that ability to provide the flexibility to suit each customer's requirements."

– Thomas Chu, Managing Director, Boustead Projects
As Boustead Projects progressively digitalised their business, they adopted transformative methodologies including Integrated Digital Delivery (IDD) and Industry 4.0 technologies. They also sought strategic partnerships to enable and develop smart, eco-sustainable, and future-ready developments.
Novade's digital consultants worked with Boustead Projects to map existing workflows and analyse site processes.
With streamlined workflows, Boustead Projects' construction teams replaced manual forms with digital ones. They are now able to access forms through their mobile devices.
The data collected now provides decision makers with reliable data in real-time to make smarter, faster, and safer business decisions.
Improved quality management
The
Novade Quality module
digitalised Boustead Projects' quality site processes, including non-conformance forms, and quality inspection checklists.
Digitalisation increased Boustead Projects' accountability in quality management. With stringent approval workflows in place, corrective actions are recorded and tracked in real time. In turn, that reduced the cost of rework as rectification processes are more efficient with the digital signing, archiving, and retrieving of forms. There is no more double handling of data. Digitalisation prevents human error when entering or retrieving data. Administration time is greatly reduced with the elimination of manual forms.
According to site engineer Hii Wei Shen, the process for conducting inspections is now simplified. He commented, "Subcontractors would previously submit hardcopies of inspection forms to me which meant I needed to bring paper-based drawings to conduct any inspection.
"After implementing Novade in our projects, all our work has been digitalised and simplified. For example, with this digital form, we just need to check the spacing of the rebar, and take measurements along with some photos for the subcontractors to do their rectification work."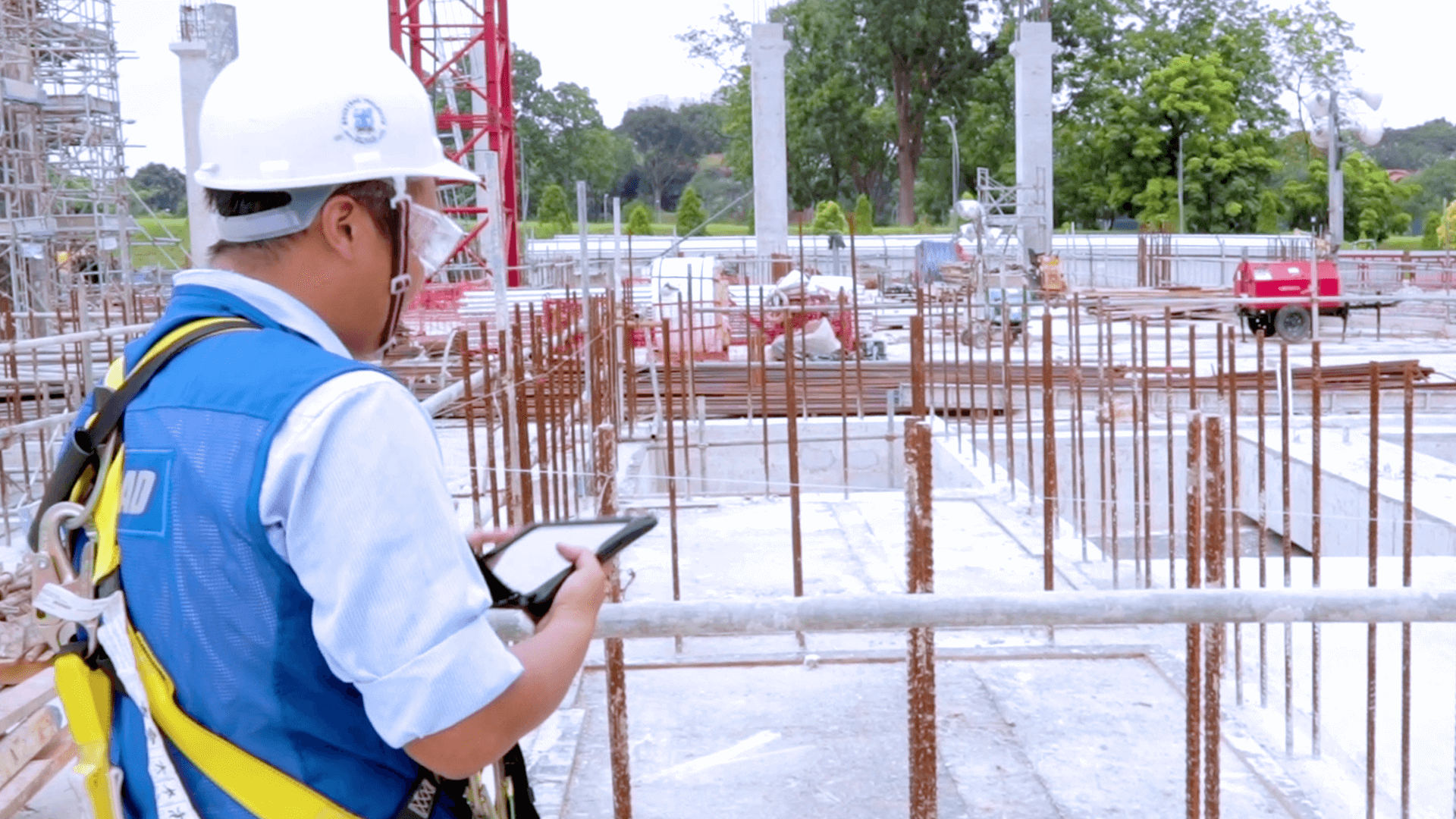 "After implementing Novade in our projects, all our work has been digitalised and simplified."

– Hii Wei Shen, Site Engineer, Boustead Projects
Project status visibility in real time
Managing tasks and project status involve several steps. Data input, consolidation, and retrieval are time-consuming. These manual processes result in nonhomogeneous data, time lag, data loss, and huge physical storage spaces for archival of documents.
Boustead Projects also wanted to track project completion status in real time. They recognised the value of the data they were collecting, across multiple projects, and they wanted to capture and interrogate the data easily.
The
Novade Activity module
digitalised all repetitive and sequential tasks enabling Boustead Projects to easily collect data to improve productivity and traceability. All stakeholders have visibility of key data across all projects and can easily keep track of project status in real time, on and off the field.
Novade Activity is designed to link seamlessly with other modules such as Novade Quality. All controls conducted for quality-related tasks are fully traceable to increase accountability.
Novade is now being used by more than 900 personnel across 14 Boustead Projects' sites and counting.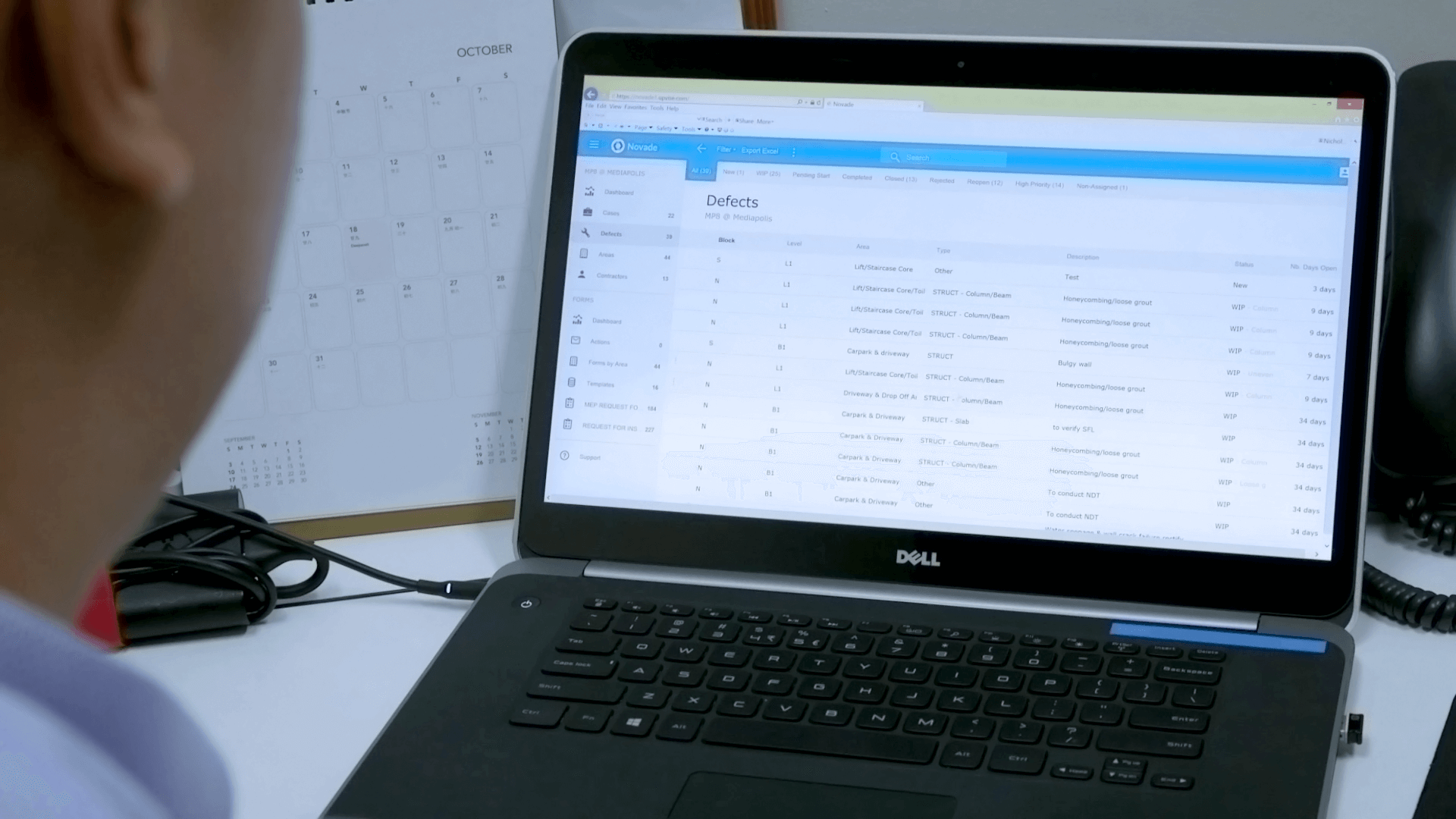 "Novade incorporates a natural way of disseminating information using smart phones and tablets."

– Muhd Khalil Shaiful Bahari,
Senior Digital Delivery Manager, Boustead Projects
On-site teams have created approximately 28,000 quality forms. Boustead Projects has successfully used Novade to identify and rectify 13,000 defects, with more than 67,000 tasks created to manage activities in the field to date.
Novade digitalised and automated all site processes from start to end. Productivity has increased, as have quality standards. Paper has been all but eliminated from construction sites and the data collected is now able to provide previously unknown insights.
Integrating with various software solutions gives Boustead Projects an end-to-end solution across critical parts of their construction value chain.
Senior digital delivery manager Muhd Khalil Shaiful Bahari commented, "Novade is not only useful because of its integration with the BIM software, but the interface allows me to track some information that I wasn't previously aware of. We have many work processes that are customised to individual needs. Ultimately, we are looking at delivering good quality projects on time."
Reduced administration costs & increased productivity
A conventional inspection process typically takes 240 minutes across several steps, from preparation, inspection, rework, approvals, to report submission. With Novade, digital forms are now ready in four minutes. Time taken to lodge each defect is reduced by half – from one minute on paper to half a minute in the app.
Before, preparation of each weekly defect report used to take an hour. The whole process included travelling back to the office to download pictures, preparing the report on Excel sheets to communicate with stakeholders, and adding photos and comments to the report. Using Novade, workers can prepare a defect report in less than 30 minutes without having the need to travel.
Now, all relevant data can be exported instantly from the Novade platform to send digital reports to management.
Boustead Projects now relies on Novade to help deliver their projects even faster, smarter, and safer. Deputy managing director Steven Koh said, "Digitising all these inspection forms and defect management on-site is a life system."
"Everything is captured and uploaded to the platform, and stakeholders can act immediately. This helps to increase our productivity."

– Steven Koh, Deputy Managing Director, Boustead Projects