Enforce Safety Processes & Compliance on Site
Novade Safety is used to manage safety procedures on construction sites such as Permits To Work (PTWs) or Non-Conformances (NCs). Paper forms are replaced by an easy-to-use mobile application. All key stakeholders are engaged in key processes:
Sub-contractors can submit data from mobile devices and are notified when actions or the validation of actions is required.
Safety officers can conduct safety inspections and validate PTWs instantly. Corrective actions are easy to check and monitor.
Site managers can monitor the status of all PTWs and NCRs in real time from their desktop or mobile devices.
Novade Safety is a formidable platform to improve safety project after project. By capturing data day after day, you can analyse data, identify trends, draw correlations and ultimately improve safety on projects.
Significantly improve safety on your projects:
Productivity
Real-time access to information on mobile devices & automatic generation of reports.
Compliance
Rule-based system ensures rigorous enforcement and control on key processes.
Safety
Teams can assess issues, take corrective actions and ultimately improve safety.
Digital forms for Permits to Work (PTWs) such as hot work permits, lifting, and work at height.
Customise workflows for each PTW.
Add people to a PTW and view their qualifications.
Submit, review and approve PTWs directly from mobile devices.
Sign off digitally on forms.
Monitor the status of all PTWs in real time.
Lodge non-conformities during inspections: select standard descriptions, take and annotate pictures, and more.
Assign corrective actions on the spot with starting data, completion and level of severity.
Monitor corrective actions.
Confirm corrective action completion and get acknowledgement with digital signatures.
Generate reports automatically.
Analyse Incident Reports & Near-Misses
Customise digital forms to match your Incident, Accident or Near Miss Reports.
Input information in the field from mobile devices: hazards, hazard sources, root causes, etc.
Review information: Identify corrective and preventive actions.
Conduct analytics: frequency, most common sources, correlations.
Digitise

 meeting reports

: this includes toolbox meetings, incident & risk-assessment reviews, weekly safety meetings, and more.

 

S

implify

 the attendee confirmation process.

 

 

Track

 

workers' attendance for each meeting.
Review all the meetings conducted on the project at a glance.
Attach files to each meeting.
Generate meeting reports

 

in PDF format.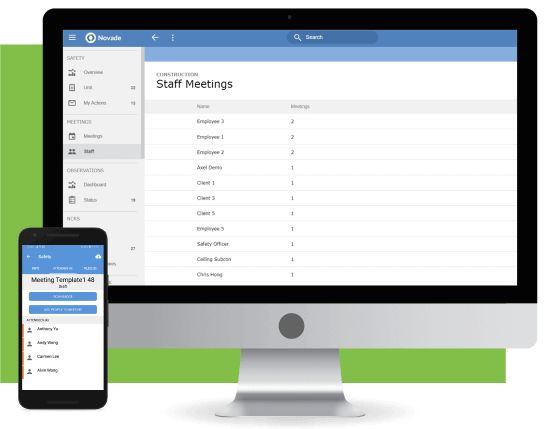 Generate Reports & Conduct Analytics
Dashboards
Pre-defined dashboards to help teams track statistics on various projects.
Download & Export
All information can be easily downloaded or exported in Excel & PDF formats.
Custom PDFs
Pre-defined reports for inspections, work instructions, rectification acknowledgement.
Interested? Schedule a Free Demo
Learn More About Our Modules: